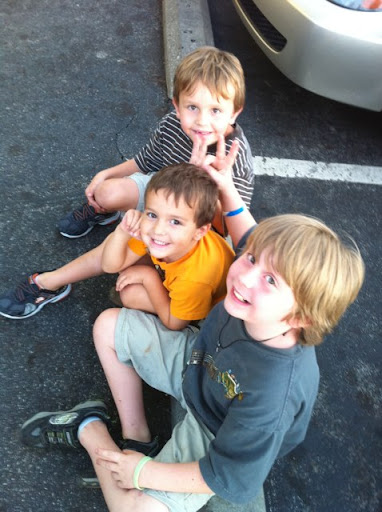 Last summer, Matt and I took Jey to St. Louis for vacation. One of our stops was the St.Louis City Museum and ever since then we have been dying to take our nephews knowing they would love it as much as we did. So this weekend we loaded two cars full of family, friends, kids, all the stuff that kids require and headed that way. It was everything we thought it would be - SUPER FUN! Our fun started with the St. Louis zoo (which is very cool for a free zoo!), continued with some hotel swimming, a trip to Trader Joes, some more swimming, the coolest museum ever, diner on The Hill, and Ted Drewes.
You can't go to ST. Louis and NOT get Ted Drewes Frozen Custard! So glad we were the ones that got to introduce the Murray's to Ted Drewes. Pictured above are the boys patiently waiting for their custard.
Thanks for the great weekend!