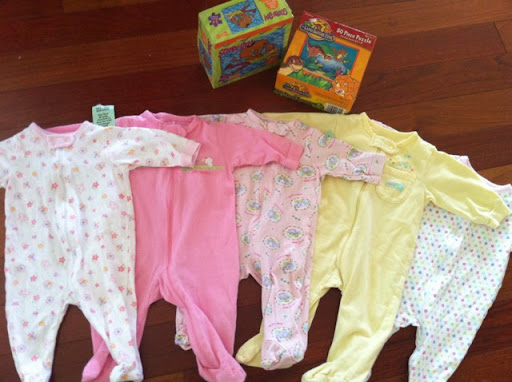 As I've mentioned before, I am certainly no expert when it comes to "being green". However, I have been trying to add little things to my world that are environmentally friendly. I recycle, I am trying to reduce, and this post is about REUSING. I've never really thought about shopping for used items as being "green" until recently when someone pointed it out to me. There are a lot of benefits to shopping consignment - it's cheaper, there is a HUGE selection, and you may find something or a brand that isn't normally offered in the area.
This "green" activity helps reuse items so they won't end up in the landfill and reduces the amount of products you are buying at the store which in turn reduces the amount of resources used for manufacturing.
The other cool thing about consignment is that those items have to come from somewhere so you can "sell" or "donate" your gently used items for cash or store credit. Recently, I sold some maternity clothes to Children's Orchard for some cash and Other Mothers for store credit. I've bought Ava some sleepers, a new bouncer, and Jey some play clothes, puzzles and games AND I STILL have $60 of store credit at Other Mothers!
Matthew and I have not been left out either. While I have not ventured out too far to the consignment stores for big kids I have found The Plaid Door on east Sunsine to be exceptionally fun! I found several things to add to this momma's closet and a few new shirts for Matt.